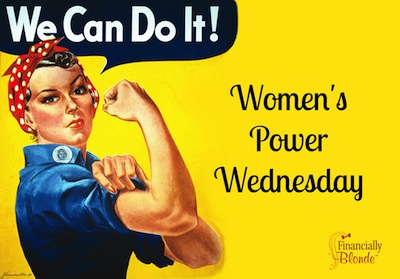 Remember two weeks ago when I showered some love and praise on some awesome female bloggers? Well, it's time for another dose of that, peeps, so get ready to be inspired!
It's still the month of March, which means Women's History Month is still marching on! Last month I featured some super successful solopreneurs. Today, I'm featuring several other bloggers who have been big inspirations to me in one way or another. Thanks again to Shannon for including me in this! 🙂
Without further ado:
Kathleen @ Frugal Portland
Did you know Kathleen and I got to meet in real life? It was so much fun, and now I want to meet all my blog friends in real life. For the record, she is just as sweet, fun, and pretty in real life as I imagined her to be from her blog. I can't wait to hear about her upcoming wedding and her quest to save 50% of her income this year. Kathleen is a very, very talented writer, and if you haven't met her yet, you totally should! 🙂
Stefanie @ The Broke & Beautiful Life
Stefanie is killing it in the blogging world. It's like she came out of nowhere with this absolutely incredible site and work ethic. Her blog has grown so massively in the past few months because she is very involved in the community and writes great content. She's also a great side hustler. I worked with her recently and was blown away by the speed and quality of her work. I have a feeling she won't be "broke" for much longer. 🙂
Kali @ Common Sense Millennial
I promise you that Kali is next on the list of bloggers who will be making the switch to full time. She just started putting the pedal to the metal in terms of increasing her freelance writing presence. You've probably seen her popping around the web, and you'll likely see her much more in the coming weeks!
Laurie @ The Frugal Farmer
Can we all just agree right now that Laurie is one of the nicest people in our community? She has provided me with endless support and some incredibly sweet mom advice, and I'm just so thankful to know her. She's also very inspiring, rocking her debt repayments all while raising a big family and freelance writing on the side! If you haven't read her writing yet, you definitely should!
Erin @ Broke Millennial
As a fellow millennial, I always appreciate Erin's great insights. I'm always impressed with her site. One day, she's explaining IRAs and then another day she's posting something incredibly personal and poignant that really makes you think. I feel like her personality always shines through in her writing, which is why I love to read it!
Wendy @ Girl Meets Debt
I've been saying this a lot, but Wendy's blog is one of my favorites. She is someone who I really want to meet in person. I can relate to a lot of her story, and I feel like she's very real and genuine. She just recently took a week off (the nerve!) and I feel a little lost without her fun posts and keeping it real attitude! 🙂
Carrie @ Careful Cents
How does someone even write about Carrie in a little paragraph? Carrie served as a HUGE inspiration to me when I wanted to transition to blogging full time. I loved reading her story, loved seeing how she got out of debt, and I've just watched as she has really rocked it out as a successful businesswoman. I think what makes her so special is that she is incredibly helpful to others, especially small business owners and freelancers. You probably all know her already but if you don't, here are some details about her Freelancers Club.
Tonya @ Budget and the Beach
Tonya's blog was one of the first I started reading in the PF community. She lives what I consider to be a pretty fabulous life with the freedom (and sometimes the stress) of working for herself all while playing beach volleyball on the weekends and hanging out with her friends. I just love reading about her journey and how her day job business and online business have grown over the past few years!
Catherine @ Plunged in Debt
I love keeping up with Catherine's journey. For one, she has the CUTEST DAUGHTER ever! Seriously her kid is awesome. I love following her on Instagram! Catherine is a really hard worker who balances a full time job with some side hustles and being a mom. Catherine has some great ideas, and what I really admire about her is that she always carefully weighs how she spends her time. You can just tell from her blog that family is really important to her, and I have learned so much from my e-mail conversations with her. She is so giving especially with mom advice, and I'm just so glad that I've met her!
Anne @ Unique Gifter
Anne runs an awesome blog that has just about every idea for giving gifts you can think of! She is always so sweet, supportive, and professional. I love that her site has a specific niche and yet it's applicable to so many things. I'm just waiting for her to start a personal finance blog since we all know she wants to. 😉
Michelle @ Shop My Closet Project
The first word that comes to mind when I think of Michelle is refreshing. She is really, really funny and honest. I wish I had her knack for coming up with blog posts and great post titles. Her blog is such a joy to read, and she is a seriously great writer. I promise if you haven't read her blog yet, she'll become one of your weekly reads.
Mrs. PoP @ Planting Our Pennies
Mrs. PoP and her hubby are such a HUGE inspiration to me. They are both incredibly smart, and I love reading their net worth updates and advice. Oh, and Kitty PoP's antics are hilarious. If you haven't stumbled across their site yet, be prepared to get inspired to whip your finances into shape.
Okay! That's all for now, and I'm sure I've forgotten some amazing people thanks to my cloudy pregnancy brain, and if I did, please forgive me! There are so many talented female bloggers in the personal finance community, and I'm so lucky to know each of the ladies above!
What are some other personal finance blogs that you love that aren't on this list? I'm always searching for new ones to read! Also, I'm sure the boys are pretty jealous by now after all of these Women Power Wednesday posts, but don't worry – we love you too. If you want to have a Manly Monday or something, we're cool with that. 🙂