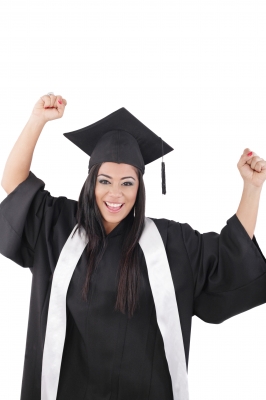 Today's guest post is by Emily from Evolving Personal Finance.  Emily and her husband live in Durham, NC; they are PhD candidates by day and PF bloggers by night.
Cat and her husband and I and my husband are facing a problem everyone would love to have: we are anticipating big income jumps in the next few years.  Cat's husband will go from being a debt-generating med student to an income-generating resident and then an income-generating physician; my husband and I will each go from earning small stipends while in our PhD programs to having adult-sized incomes after we graduate.  Each of our household incomes will jump at least a couple times as our training progresses, so the question of what to do with income increases will come up more than once.
Large income jumps is rarely discussed, but plenty of people with newly-minted graduate degrees have questions about how to navigate them.  They have sacrificed for years living on small incomes or debt to get where they are and they want to know if they can finally live it up!
After devoting considerable thought (i.e. daydreaming) to this scenario, I have some suggestions for fresh graduates goggling at their incomes for the first time.
1) Calculate your expenses with no lifestyle upgrade.
The cold hard truth is that your income won't go as far as it might seem at first blush.
You will likely be bumped into a higher income tax bracket and you may lose some education-related credits or deductions you were able to take previously.
You probably weren't paying payroll taxes at your university job if it related to your degree pursuit, but that break will end.
You will have to start making payments on student loan debt you were able to defer during graduate school – at least the minimums.
If your new job requires a move to a higher cost-of-living area, just staying in the same size and quality of home or buying the same groceries will force an increase in spending.
You may also be losing out on some benefits that your student status conferred – think of health insurance, gym membership, subsidized entertainment, etc.
Your new job may come with some necessary new expenses, like a wardrobe upgrade and a (reasonable!) car if you didn't already own one.
If you practice percentage-based budgeting the way that my husband and I do, your absolute saving and giving amounts will increase, whether or not you increase your lifestyle.
Before moving on, you must figure out what the gap between your new income and baseline expenses really is, after accounting for all the changes brought by no longer being a student, possibly moving, and having a new job.  The true amount of excess money you'll have is probably smaller than what you thought when you first got your offer, but it's better to know the real figures than accidentally increase your lifestyle too far.
2) Consider your goals (or make some).
I won't go into great detail about all the possible financial goals a new graduate might have – there is plenty of other material out there for that!  For the purposes of figuring out to do with an income increase, there are two types of financial goals to consider: ongoing and finite.  An example of an ongoing goal might be to max out your tax-advantaged retirement accounts every year of your working life.  An example of a finite goal might be to save a down payment for a house.
You'll likely have a mix of ongoing and finite goals or a prioritized list of finite goals (like paying off debt) before you get to more ongoing goals.  Put dollar amounts and maximum timeframes on your finite goals so that you can calculate a monthly payment rate for your ongoing and finite goals.  Compare the amount of money you want to put toward your goals each month or year with true income increase you calculated in step 1.  Ideally, you'll still have some income increase left, but if your goals have more than eaten up the increase they are probably too aggressive and you should adjust them.
3) Increase your lifestyle.
Now comes the payoff!  If you can maintain your grad school lifestyle and meet your goals and still have some excess income left, you can feel free to increase your lifestyle.  Buy yourself some toys, hire a cleaning service, go on vacation, whatever floats your boat.  But please don't just inflate your lifestyle mindlessly – really think about each increase and weigh out what it will mean to you to ensure you're valuing your money well.  If you have set some finite goals, it will help to compare the lifestyle increase you're considering against the satisfaction of reaching that finite goal more quickly.
4) Go ahead, fudge the numbers.
I think that every graduate who has worked hard to land a great job deserves to increase her lifestyle a bit.  (Unless she's been living high on the hog on loans – in that case she's in need of a reality check and possibly lifestyle deflation.)  If you are totally satisfied with your grad student lifestyle and mega-motivated to meet your financial goals, then perhaps you can forgo the lifestyle increase.  But the rest of us should materially enjoy our success to keep us motivated to strive for more.  I think it's reasonable to increase your lifestyle with 10-20% of the excess income you calculated in step 1, even if that means you can't meet the most aggressive forms of your goals from step 2.
Many people inflate their lifestyle with every yearly raise and bonus, but they don't necessarily derive more satisfaction from their lives by doing so.  Already being accustomed to a lower lifestyle because of your time in school, you are in a unique position to capitalize on your big-girl/boy income and quickly meet your financial goals while enjoying the fruits of your hard work.
How have you handled significant income increases in the past or how do you plan to?  How do you account for necessary lifestyle increases?  Do you think you deserve to spend/enjoy a portion of a big income boost?