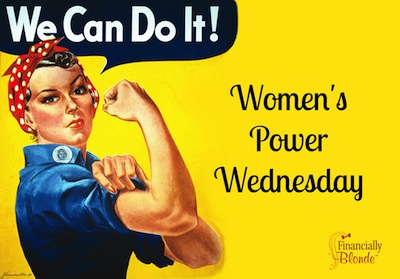 Some longtime readers know that in a former life, I earned a bachelor's and a master's degree in history. While I don't specifically utilize my education every day, I do always enjoy celebrating things like Women's History Month, which is right now in March! Woo hoo!
In commemoration of women making history, my new friend Shannon from Financially Blonde was kind enough to suggest that we celebrate fellow female bloggers this month, women who really rock it out and do it all.
I thought it was a great idea, so I'll have two posts for you introducing bragging about some of the amazing bloggers and businesswomen I get to call my friends. This week, please show some love to the ladies below:
Shannon from Financially Blonde
So, I'm sure you can guess from her blog name that Shannon and I were meant to be friends. She is fearlessly blonde and embraces it. She loves showing people that yes, blonde chicks can be smart about money, and she makes a living as a financial advisor. The company she founded, called Next Gen Financial helps people to get financially fit. She even wrote a book about it. You have to love someone who is so devoted to helping others, all while being comfortable in her own skin.
Shannon from The Heavy Purse
Shannon is someone I look up to very much. She is an amazing, incredible mom and a certified financial planner who has built a blog and a business that educates parents on how to teach their kids about money. Plus, Shannon always has a nice and encouraging comment to write to everyone! You will never see her being judgmental. She's incredibly sweet, kind, and helpful, and I only hope that I can raise my kids as well as she has raised hers!
Alexa from Single Moms Income
Alexa is a rockstar. That's the only word I can think of when it comes to her. She is a side hustler like no other, and she is nice enough to share jobs and tips with her readers every single week. Like me, she recently became fully self-employed and has been doing an awesome job at managing her biz all while being a single mom. Kudos, Alexa!
Holly from Club Thrifty
The thing I love about Holly is that she's completely true to herself. She has a really outgoing personality that you can just feel through her writing, and she isn't afraid to stand up for herself or say when she thinks something just isn't right. Honestly, sometimes I wish I could be more upfront like her in my writing. She makes me laugh, and I'm just really endlessly impressed that she has built such a hugely popular blog (and a sweet VIP club) in such a short amount of time. You'll enjoy watching her income grow in her monthly stats – I know I do!
Michelle from Making Sense of Cents
Michelle is perhaps best known for making insane 5 figure incomes every single month with her blog and other side hustles. She is an incredibly hard worker. Like seriously, she is a machine and has accomplished sooooo much at such a young age. From earning her MBA to paying off 40k worth of debt and then breaking out to work on her own, I think she is one of the most inspirational bloggers out there. I'm happy to call her a friend and always look forward to what she has to say on her blog.
Once again, I'd like to thank Shannon for including me in her list of female bloggers to celebrate this month. I'm very honored to be a part of the group, and I hope everyone has fun learning about the women mentioned above!
Who are you celebrating during Women's History Month?