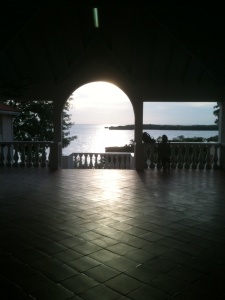 Back in the olden days (like 3ish years ago), hubs and I had to have a major long distance relationship. I went to grad school three hours away from him. We spent the first few months of our marriage apart. Then, he went to Grenada and we spent even more months apart. It was crazy. I would not want to do it again ever. Not only is it expensive to try to see each other but it tugs at the ol' heartstrings too.
I was talking to another blogger recently, Kassandra, who had to do the same exact thing, and I asked her to write about it. If you don't know Kassandra yet, she is a self-employed wife and step-mom who is striving to live life beyond what money can buy. She writes about a variety of topics and personal experiences that all intersect with money. Check her out at More Than Just Money but only after you read her awesome post right here. 😉
Keeping the fire burning bright in a relationship is hard enough when you are living under the same roof. But what if you are in a long distance relationship and you are on a tight budget?
This was my reality for over four years. My husband and I first met in Montreal, Canada where I lived at the time. My husband was based in New York. After a few months of constant communication, we decided to try our hand at a long distance relationship.
Not long after I met my husband, I decided to get very serious about paying off my debt – $55,000 worth of debt. I had already come clean about my financial situation to my husband and he was non-judgemental and very supportive of my desire to be debt free. However this meant that every expense was under a microscope and my travel budget was slashed to pretty much zero. My debt presented a real challenge to our relationship because nothing beats seeing your partner in person.
Here are a few strategies that I used that may help you to keep your travel costs to a minimum and maintain your relationship in the process.
Benefit From Technology
With technology being what it is today, there are several ways of communicating with your partner for virtually free or at least very cheaply. Text messaging and email have become the standard go-to method of communication but that wasn't enough for me. I needed to at least virtually see my husband every day and with a decent high-speed internet connection, options such as Skype and Google Hangouts allowed us to make free video calls. If you have a smartphone, and a data plan, then you can video chat using your cellphone.
You can also surprise your significant other like I did by sending recorded audio and visual clips via Whatsapp, iMessage (for iPhone users) and other similar apps. By sending my husband a photo of wherever I happened to be, or a pretty cat that I chatted up during one of my walks, it helped my husband to feel like he was a part of my day. The best was when my husband sang to me "My Cherie Amour" in an audio clip. Priceless!
I had my share of frustrating conversations with my husband because our relationship hit bumps in the road. The distance was a huge bump. Sometimes Google Hangouts and Skype didn't feel like cooperating when we were in the middle of a disagreement and we needed to talk things through on the phone. As I did, you may want to check with your phone or mobile service provider about their long distance rate plans and data/text messaging packages especially if your love is living outside of the US.
Structure Your Visits
Despite advances in technology, there is nothing like sharing space and time in the presence of your loved one. My husband and I discussed a travel frequency that was acceptable and affordable for both of us. For example, you may decide to visit the other every 8-12 weeks like we did and plan your visits around long week-ends. We also took turns visiting each other. This is all about being fair and considerate of each other's schedules and pocketbooks.
During your visits, find free or inexpensive ways to spend time together. Instead of trying to cram in a bunch of social outings, focus on each other instead as time is usually short and bittersweet. I can recall that every time I would drop my husband off at the bus station or airport, I would break down into a mess of tears and my husband didn't hide his sadness either. Saying goodbye is the Hardest. Thing. Ever.
Transportation options available to you mainly depend on the geographic location of you and your partner. Traveling by plane may be the cheaper or only option. Research times in the year and days of the week when flying may be more affordable. In my case, taking a Greyhound bus or driving my car outnumbered the cost of flying every time. Whenever I did fly, it was always done using air miles. However paying the required taxes and airport fees was costlier than a round-trip bus ticket.
If you or your partner travel on business then it may be an opportunity for you both to rendezvous in a different city. With the cost of business travel covered by the employer, you can split the cost with your loved one for their transportation and meals. My husband I met up in Washington, DC, Miami, FL and Toronto, Canada during business trips in order to see each other. Whatever it takes to keep the flames burning folks!
Whether you're in a long distance relationship or part of a commuter marriage, once you and your partner are invested in the success of your relationship, like my husband and I were, then you will be able to surmount the financial and emotional challenges that may come with it.
What, if any, has your experience been with a long distance relationship? Are there any reasons why you would not consider this type of relationship?