Happy New Year everyone! It's great to have a fresh start. I appreciate all of your well wishes in my most recent post about reaching my 5 year anniversary. Hubs and I enjoyed having over two weeks off together over the holidays. He's back at the hospital today, and I'm back at my desk, juggling writing with nap time and making soup and chasing my very mobile kids around.
In sum, life is back to its beautiful, crazy normal. 🙂
Hubs and I had so much time to talk and plan over the break, and we're excited about many of the financial goals we have for 2015. We were super exhausted with all the spending and expense that happened in 2014. We just felt like we were constantly bleeding money, sending checks to various people for healthcare and buying formula for our kids. It's time we really reevaluated things to make sure we're on the right track.
The Half-Cash Budget
Although we rarely buy extra things like clothes or gadgets, we find that using credit cards has made us lax or a bit lazy with our everyday spending.  We had an all cash budget when we lived in Grenada, West Indies for 3 years, and it was some of our most successful financial years ever.
So, we talked about going back to a cash budget a few times in 2014 but never got around to doing it. I have always been a fan of credit cards especially for racking up airline miles, which we will definitely need this year due to the hubs flying to residency interviews. However, the credit cards really make us too casual about spending. One trip to Rite Aid for wipes and we came back with wipes, my favorite chocolate that was on sale, and a treat for Julep. It's not a problem to do that once or twice but I found so often that I lost track of things. Cash budgets really make you pay attention to what you're doing.
So, what's a half-cash budget?
Basically, I'm not going to make life harder on myself than I have to. My main expenses like rent and electricity and car insurance are all on automatic withdrawal. I'm not taking all that out the bank and handing my landlord a big wad of cash (although we did do this in Grenada with our all cash budget.) So, we sat down and put an asterisk  next to the items we wanted to pay for in cash and everything else will be paid for with an automatic debt or a credit card (which is the case with gas because I'm going to fill up my gas to the top every time for convenience sake and again, not make things harder on myself than I have to.)
Reviewing the Budget Ahead of Time
I was really struggling with my budget last year. I made what I believed to be an ideal budget and then every month I'd add up my spending and more often than not I didn't match things up properly. Things were just so crazy last year that I'm proud to have even tracked my spending at all, but this year I'm back to doing things correctly.
By correctly, I mean that you really should make your budget ahead of time for a few months at a time. However then you should take the time at the beginning of each month to tweak or adjust it according to what will happen that month.
For example, January 2 was my 5 year anniversary. Hubs and I wanted to have a nice date that day, so I budgeted $200 for it. We were super excited about this, seeing as we only went out 2x since the babies were born, once to the movies and once to a friend's engagement party. So, needless to say, some couple time was long overdue. The icing on the cake was that our neighbor offered to babysit for free, which was amazing.
We sat down together and budgeted out what will happen each month through May so we know what our savings goals need to be, and we will continue to meet to discuss each month as they happen in case we forgot something or something comes up.
By doing things this way instead of having a set budget and then not factoring in random things that pop up each month, we are setting ourselves up for success.
My January Budget
So, below is my January budget ahead of time, with asterisks next to the items that have been taken out in cash. I will come back around at the end of January to report on how we did.
For anyone new to reading my budget posts, the Gremlins category is for all of those things you don't plan for, like speeding tickets or a bill you forgot about. That way, your budget won't get off track when the unexpected happens (because you know it always happens!)
Also, the numbers below do not represent our take home income. We don't share those numbers, and because I am self employed, my income is quite variable anyway. The numbers below represent a nice, safe place for us, and we have an emergency fund in place should some business catastrophe happen.
So far, the grocery category is going great. We are severely cutting down in this area. More on that soon!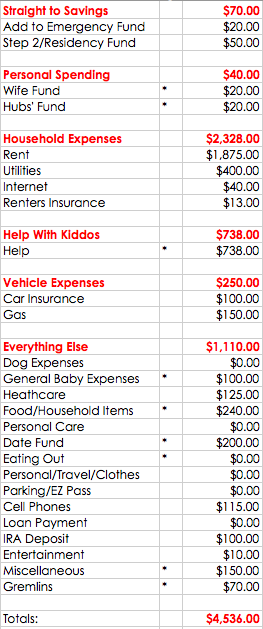 Are you updating your budget in 2015?