Last weekend, we embarked on an epic journey to Boston with our beautiful babies, who turned 1 on Monday! It was a birthday trip of sorts since we didn't throw them a party or buy them presents (gasp! The horror!) I'm halfway through writing a post about Boston and frugal tricks about seeing it on a budget, which will go live next week so stay tuned…
If you follow me on Twitter or Instagram, you might have noticed that we stayed with the oh-so-famous couple, the Frugalwoods! It's pretty awesome when you get a bunch of frugal folk together to dish on their best Craigslist scores, best thrift store finds, and affordable meals. Hubs kept saying, "Oh no there are TWO of you" when Mrs. Frugalwoods and I got all excited about our awesome frugal stories. 😉 I got to see the infamous winter coat from the trash AND take in the amazing sight that is the Frugalwoods rice-n-beans. It's real, people. They don't just make it up for fun.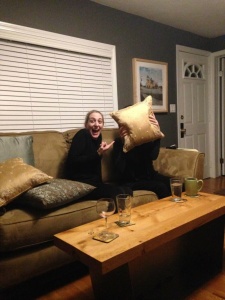 I have to say, the Frugalwoods are just as sweet and funny in person as they are online. I'm pretty sure our kids kept them up all night long the first night we were there and they totally acted like they didn't. And they listened politely while hubs chatted endlessly. Isn't that sweet? I mean, we did bring a total circus to their very peaceful and quiet home and somehow they let us stay another night! They were also very helpful with the babies. Beanette was completely captured by Mr. Frugalwoods beard, and Mrs. Frugalwoods helped me bathe the babies and change them and chase them down when they crawled away in two different directions. It was nice to have some extra sets of hands!
Frugal Hound was very sweet to the babies, who kept sitting on her bed. Frugal Hound slept most of the time but as we found out, also has a penchant for baby toys. We found Frugal Hound and Bean passing a toy back and forth to each other, which I thought was quite adorable. Unfortunately, Frugal Hound got in trouble when she stole a baby toy for herself and chewed on it a bit. She was very remorseful though. Really how can you be mad at Frugal Hound? Just look at what a great pony she makes!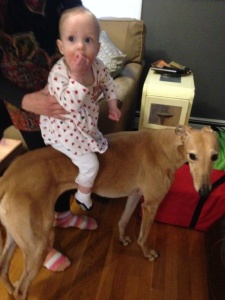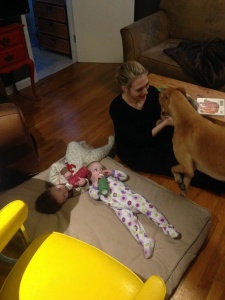 Overall it was a good experience for us to get out and take the babies somewhere, and we were really grateful for a place to stay so that we could celebrate their birthday in a way that fit our budget. Thanks again Frugalwoods family for having us!
And here's the writing wrap up for this week:
POSTS FROM MY OTHER BLOGS
4 Ways to Lower Your Expenses to Put the Difference Toward Debt Red Debted Stepchild
Responsible Travel: Leave Each Place Better Than You Found It Budget and the Bees
Financial Implications of Having Friends Red Debted Stepchild
POPULAR POSTS I WROTE FOR OTHERS
Accidental Entrepreneurs: Careers That Didn't Make the Cut Frugal Rules
3 Stories of Real People Who Overcame Debt Magnify Money
A Simple Trick to Get Organized with Your Money The Simple Dollar
11 Simple Ways to Boost Your Monthly Income, No Matter Your Age The Penny Hoarder
POSTS I ENJOYED BY OTHER BLOGGERS
This Year is Not Average Done by Forty
How I Keep Brown Bagging Fresh Money Beagle
5 Tax Mistakes that Increase Your Chances of Being Audited The Finance Girl
Advice to Small Business Owners and the Moms You Stress Out In Debted and In Debt
Oops! I've Already Failed My New Year's Financial Goals Money Propeller
The Cost of Having Kids in the Age of Web 2.0 Mo' Money Mo' Houses
Yes, I'm Getting a Tax Refund (And 4 Reasons Why I Don't Care) Club Thrifty
The Year of the Hustle And Then We Saved
KEEP IN TOUCH!
If you want to connect on twitter, follow me @BudgetBlonde
If you want to connect on Pinterest, click here.
If you want to follow Budget Blonde on Facebook, click here.
If you want to subscribe to Budget Blonde, click here.
If you want to follow Budget Blonde on Google +, click here.
If you want to follow Budget Blonde on Instagram, click here.
Have a great weekend, everyone!