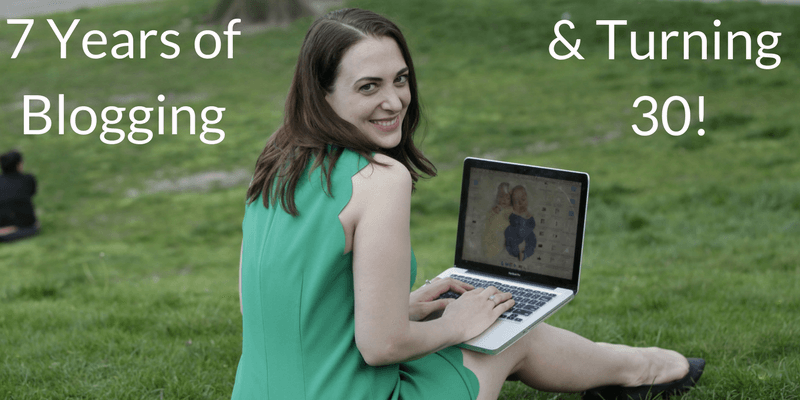 Last week was a big week for this blog and me! I celebrated Mothers Day on May 14. My blog turned 7 years old on May 17, and I turned 30 on May 19.
It was a week full of celebrations where I got to enjoy my hubby, my kids, and my work. The hubs and I snuck off and saw a movie (Beauty & the Beast – so good!) We took the twins to a hibachi grill for my birthday. I spent a lot of time resting, and I scored breakfast in bed both on Mother's Day and my birthday.
The kids and the hubs did a good job pampering me, which I really appreciated!
Sometimes I feel like all I do is wash dishes, fold clothes, and tell my kids, "Stop! No!" all day long, so getting to stay in bed in the morning is pretty much the nicest gift for a mom.
7 Years of Blogging
Just two days after my birthday, I flew to New York to create videos for the Real Simple website. (So fun because Real Simple is one of my favorite magazines!) That was actually the second time I filmed for Real Simple this month so needless to say I've been having a good time traveling back and forth, even though it's been busy.
New York City is truly one of my favorite places in the world, and I feel honored to get to work in such a great place from time to time. I really am hoping to move back to that area someday. There's just something about the energy and excitement of the city that gets me every time.
It's still unbelievable to me that this is my job and that it all grew from a small blog that I started one day on a whim, sitting alone in my bedroom and looking for a creative outlet.
I was in graduate school at the time and reading difficult historical theory books nonstop. After writing paper after paper every week in graduate school, my brain craved something more whimsical and fun – so a blog was born.
Little did I know that shortly after starting the blog, the hubs would get accepted to medical school in the Caribbean. When I moved out of the country, that's when I started freelance writing to make extra money. That's also when a lot of people started reading, because hey, reading about someone living in the Caribbean is fun.
This was before it became trendy for millennials to have a laptop lifestyle. We were really living a unique life. It was a great time for us and the perfect moment to start a business sitting there in our quiet Caribbean apartment just the two of us – hubs studying for medical school and me doing some freelance writing jobs.
Fast forward to today, and things are busier than ever. Hubs is officially a physician now with the insane schedule to go along with it. He just passed his third – and last – board exam to become fully licensed.
Our twins just turned 3 in March as well. Sometimes it seems like we can barely keep our heads above water, but at the end of the day, I come back to this blog and feel like it's really saved us in many ways.
The Flexible Blogging Lifestyle
If you read some of my recent posts, you know that I had a rough first quarter with my business, so much so that I considered going back to a 9-5 job. However, this downturn in business was just the fuel I needed to start hustling more.
I think as entrepreneurs we can get a little cozy and comfortable when things are going well. We forget how scrappy we had to be in the beginning, how much we pitched, and how many hours we put in.
So, after freaking out a little bit in Q1, I worked my butt off and it's lead to a lot of great new opportunities. If there's anything I've learned in 7 years of blogging it's that you never know what's right around the corner. You never know what opportunity will land in your inbox.
The other thing I learned is how valuable this job is to my family. My flexible job is becoming more and more necessary as my husband takes on more responsibilities as a physician. He leaves for work at 5:30 every morning. Some nights he doesn't get home until 8 or 9 PM.
For our particular situation, it would be too challenging for me to have a commute and a 9-5. Any time one of our kids gets sick, I have to be the one to care for them, which means if I had a 9-5 job, I'd always have to be the one to take a sick day.
Running my business means I'm home with my kids in the mornings. It means that I can prepare dinner, switch the laundry loads, take the trash out, and do everything else required to keep our house afloat.
If the hubs had a more traditional 9-5 job, we could both work together on these tasks but because things are just so unpredictable with him, it's nice for my kids to have me present, steady, and at home for the most part.
Just last night, the hubs was getting ready to leave work when a patient needed emergency surgery. Since he is still a resident, he called his attending to ask what to do, and she told him go to the OR immediately and start the surgery while she made her way to the hospital from her house.
These are the types of things that cause hubs to get home late, so there has to be one of us with a flexible schedule who is available to pick up our kids or bring them to appointments and just have enough time to make them dinner.
I know we'll look back and wonder how we did this, but I like that our schedules foster a sense of camaraderie and make us have to work together as a family. Even the kids are required to clean up, put their plates in the sink, and make their beds. If one of us slacks on the job, the house goes downhill fast!
Turning 30
Now that I've updated you a little on the fam and my biz, let's talk about turning 30 – ah!
I asked for one gift for my birthday and that was a Fitbit. I've been wanting a Fitbit for quite some time, mostly to track my sleep but now I'm excited to improve all areas of my health.
Hubs ended up getting me the Fitbit Alta HR, shown below, and it's been a game changer. We even have a group of financial bloggers who are in a work week steps competition each week. If you want to join in, just add me as a friend on there. I think you can search me by name.
I continue my quest to be in good health, and I think this will get me a good portion of the way there. I've talked several times about my struggles with anxiety and depression, and I recently read a study that those who are depressed and regularly exercise not only feel better faster but have a lower rate of relapsing depression than someone who just takes anti-depressants.
Another thing I've struggled with health wise in the past few years is recurring sinus infections. Last December, I had two different nose surgeries, and they've helped a lot in reducing the sinus migraines I used to have. However, I'm still having sinus pressure quite regularly.
In trying to find the root cause of this, I'm attempting to figure out if I'm allergic to something like dairy that's causing sinus inflammation. I'm even going to try my hand at a plant based diet or at least mostly plant based just to see how that affects my health, my mood, my energy, and more.
Basically, I'm taking this decade of my life pretty seriously in terms of health. I spent the vast majority of my 20's eating total crap, especially when I was in college and grad school, and I think it's just time for me to do better.
I'm not only tracking my steps in the Fitbit app but also what I eat. I'm not aiming to lose weight per say, although that will likely be a byproduct of this whole thing. I'm still relatively lean and always have been; I'm more trying to figure out how to improve my energy levels and mood and what types of food will help me get there.
The only other thing I wanted before I turned 30 was a book deal. That was goal of mine that I've mentioned here before. Although that didn't happen, I did finally sign a contract with a literary agent after two years of trying and many agents turning me down. This means that I'm one step closer to a book deal, and I'm really happy about that. There were many, many times when I wanted to give up on this goal after being mentally beat up a bit by literary agents but I prevailed! I hope to have good news on this front in the coming months. 🙂
So, that's what's new with me! Now, I'd love to hear what's new with you. Have you had any big milestones or birthdays lately? Any bloggers in the house have blog-birthdays recently? Spill it.