Today's post is a guest post from one of my coaching students, Jessica. I hope you find it helpful. Take it away Jessica!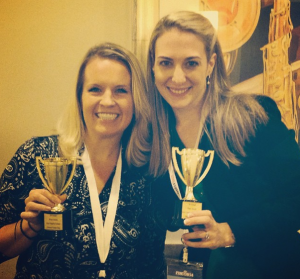 Oh networking. The word itself is enough to make me feel a little anxious. I know certain people thrive in social situations and love meeting new people. I am not one of those people. I am very much an introvert, who prefers to spend my time doing solo activities or social activities in a small group with close friends. Like it or not, networking is a very important tool for everyone. For introverts, networking can sometimes feel like a necessary evil, but it doesn't have to be that way.
Editors note: I struggle with networking because I'm pretty introverted too.
When I was finishing up law school, I had just moved to Los Angeles and I knew no one in the legal field. I had a huge amount of student loan debt and it was absolutely imperative that I find someone to hire me once I passed the bar exam. As such, I was forced to attend networking events and put myself out there to meet people. In the process, I learned some tricks to make networking a little less painful for those, like myself, who aren't naturally social.
Select Events Carefully
I quickly learned that the type of event really set the tone for what I could expect. Being an introvert, I tend to prefer smaller gatherings to large galas. At smaller events, people are usually able to chat easily with one another and build connections. Also, I usually don't feel distracted by too much stimuli at the smaller events. Large events can be overwhelming due to the noise, crowded spaces and amount of people to potentially meet.
Aside from the size of event, the particular focus of the event is important to consider as well. It's natural to feel more at ease at an event where you know you will have something in common with the other attendees. Great examples are alumni association events, fundraisers for your favorite charity, and industry specific conferences or meetings.
Practice
This may be a bit cheesy, but it really helps to practice what you will say at a networking event before arriving. Being prepared dramatically reduces feelings of anxiety. Knowing how you're going to present yourself and thinking of some questions to ask the people you meet will help you feel less overwhelmed at the event.
Feel free to practice your "elevator speech" in the mirror until you feel confident. Memorize five or so questions to ask those you meet to help keep the conversation from feeling awkward. Things like: "How did you find your way to your current position" or "What is your favorite part of your job?" and "What do you find most challenging about your career path?" usually flow naturally in conversation and provide the opportunity for follow up comments as well.
Plan Day Accordingly
If you have enough advance notice for your networking event, it's a great idea to plan your day with that in mind. Since socializing can feel draining for introverts, it's important to reserve your energy. Doing so will help you be at your best when it's time to be "on."
If you're attending a networking breakfast, prepare the night before by reviewing your elevator pitch and your questions as discussed above. It is also helpful to set out your clothes and other things you will need for the day in the evening so you won't feel stressed in the morning. For evening events, try to schedule an easy day at work. If possible, avoid other meetings, high stress projects or deadlines, or anything else that tends to drain you. Remember, this planning intended to help reserve your energy so your tank will be full when you need it later.
Find Time Alone
Hand in hand with planning your day, it may be helpful for introverts to find some alone time in anticipation of a networking event. Personally, I find it beneficial to have a bit of quiet and calm before I go into an event. I like to just sit quietly in my car or listen to my favorite music before I enter the event, which helps me feel more relaxed and ready to interact with others.
Additionally, if I feel myself getting overwhelmed by the noise and crowds during the event, I will remove myself for just a minute or two. Usually, I try to find my way to the restroom or step outside for some fresh air. Doing so allows me to tune out most of the stimuli and recharge for a second wind, so to speak.
Set Small Expectations
One piece of advice about networking that I absolutely hate is to go into every event aiming to make connections with at least three people who can also connect you to three others. To an introvert, like me, this advice feels intimidating and overwhelming. It's almost enough to make me want to eschew networking altogether.
Instead, I like to set smaller goals that feel attainable to me. I go into every networking event aiming to make just one contact. Yep, that's right: one contact. In my mind, since networking sometimes feels intimidating to the point where I don't want to do it at all, making one contact is better than none. It also dampens the anxiety I might experience beforehand, allowing me to feel more comfortable. This often results in making more connections than the single one I was aiming for going into the event.
Grab a Drink
This suggestion may be a bit controversial, but hear me out. If the event you are attending has a bar, go hit it up for some liquid courage. Even if you don't drink alcohol, this tip can still work for you. When I go to networking events, I'm usually a bit nervous when I first arrive. The very first thing I do is head over to the bar. If there's a line, it's a good opportunity to observe the situation and get a feel for the event before diving in and making initial contact with other attendees.
Aside from that, I often find that a small glass of wine will help me feel more relaxed and a bit more talkative. This was especially true for an attorney improv event I attended. Everyone was a little uptight at first, but after a glass of wine we were willing to put ourselves out there and really embrace the exercises. I think everyone who attended had a great time and we made great connections because we overcame feeling uncomfortable together.
Additionally, having a drink gives you something to do with your hands so you aren't tempted to fidget. Just be sure to hold it in your left hand so your right is free for a handshake. If you do drink alcohol, please be sure to limit your consumption so you don't become intoxicated. That will not make a good impression!
Do you enjoy networking or does the thought of it make you cringe? Do you have any great tips to add?
Jessica is a freelance writer and attorney in Los Angeles, California. She writes about getting her finances in order and finding balance in life at Settle Your Finances.