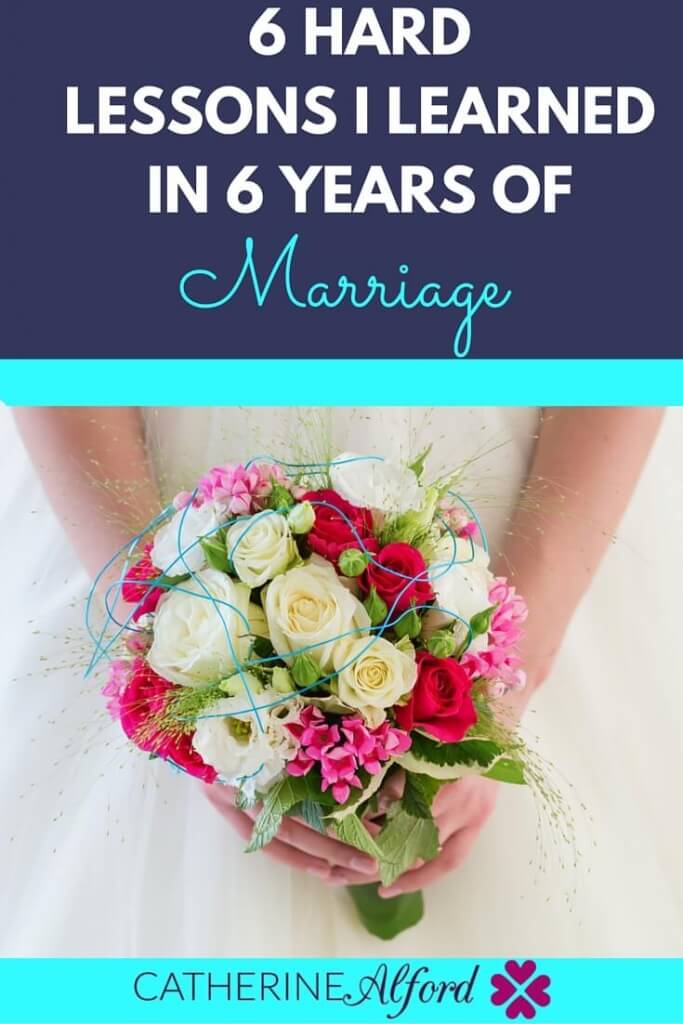 I'll be honest with you: marriage isn't for the faint of heart. It's for the brave, for the ones who like a challenge. Marriage is also beautiful. Finding that one person in the world who makes you feel safe is an incredible feeling. I wouldn't change it for anything.
That said, in our society of everyone's picture perfect lives on social media, I like to be a voice who helps others know that they aren't alone, that their struggles are legitimate, and that other people have them too.
So, here's a summary of what I've learned in my six years of marriage – some lessons are good, some are great, and some were just plain hard.
1. Parenting Makes Marriages Both Stronger and Weaker
I've been honest in the past about how challenging it is to be a parent. There are some days when I'm so incredibly amazed that the hubs and I created such gorgeous and perfect children and other days when they cry so much, I just want to lock myself in the bathroom.
The stresses, triumphs, challenges, successes, and day to day grind makes our marriage both stronger and weaker depending on the day.
It's stronger because we have an intense bond because of the two lives we created, two little kids who are half hubs and half me.
There aren't enough words in the English language to adequately describe just how much we love those little humans; it's an intense love we've felt from the first few days we met them and held them and marveled at their existence.
At the same time, we disagree from time to time on parenting topics. We both get worn down by their endless energy. It makes us short tempered and tired, which hurts the marriage, but other times, the beauty and the love is so great, it only makes us stronger. The lesson here is to just take it one day at a time; at least, that's what works for us.
2. Budget Meetings Are Worth the Pain
There was a time in our marriage when I took care of every line of the budget, every bill, every ATM withdrawal, etc. etc. As we added kids to the mix and my business got bigger, things got more complicated. So, I started having budget meetings with my husband.
Getting hubs more involved in our day to day financial life has been good for us. It makes me less of the bad guy, less of the person who is always the one who reminds the hubs about the budget. Sometimes budget meetings get tense; however, it's worth the pain because we really are on the same page financially now.
3. Spontaneous, Sweet Moments Aren't Spontaneous Anymore
When the hubs and I were first dating, we were so silly and spontaneous. One day, we'd just decide to go to a museum or try a new restaurant. I remember one weekend we went out and bought the whole first season of LOST
and watched it all day long. Can you even imagine us doing that now? Those early, carefree days of going to football games, studying next to each other in coffee shops, and going on dates have been replaced with intense work schedules and immense responsibilities.
So, spontaneous moments have to be planned these days, if that makes any sense. On our most recent anniversary, we went to New York City. We went without a huge plan in mind (that's the "spontaneous" part.) We just parked and started walking hand in hand. I saw an amazingly cool store full of fossils that we spent a good hour in because it was so unique and interesting. Then, we went into a camera store, and I got the camera
I'd been wanting. We randomly found a restaurant and just walked down the street of NYC holding hands. It was wonderful and carefree, and we realized we need to spend more days like that together!
4. Mental Health Should Be a Priority
Hubs and I both have a bad habit of powering through when we've had rough days. After all, we have kids to feed, dinners to make, clothes to fold, and just life to deal with. However, we really try to give each other mental health days, even mental health mornings if that's all we have time for.
Typically one of us will let the other sleep in one one weekend day and then switch the next day. I get tired of making breakfast for the twins every day, so hubs usually takes over on the weekends. Sometimes I'm even nice enough to let him change all the diapers
on weekends too since he misses out on the fun during the week. 😉
Either way, we both try to encourage the other one to take some time away if we need it, even if it's just five minutes alone in a room to finish coffee in peace without small kids climbing all over us. Too much work, too much kid time, and too many chores and responsibilities will wear on anyone. Giving each other a bit more understanding and leeway and time to recharge is great for two introverts who happened to marry each other. 🙂
5. Speaking Up Avoids Resentment
My hubs will tell you the best thing about me is that I speak my mind and the worst thing about me is that I speak my mind. 😉
Hubs, of course, is the opposite (because being the same is so boring right?) The past year, I've really tried to encourage hubs to speak up more when he's stressed or upset so I know what's going on. Similarly I've tried to not speak up so much. It's a delicate balance and one I'm sure we'll be working on for the duration of our long lives together.
6. Being Supportive is the Best Gift You Can Give to Each Other
The hubs and I are a work in progress. We should improve so many things on many different levels. We lose our tempers. We argue. We get tired and grumpy and take it out on one another from time to time. However, if there is one thing we do exceedingly well, it's that we are 100% supportive of each other.
This year, we've really shown that to one another more than any other year, and for that, I am truly grateful. This year, hubs has encouraged me and pushed me to grow my business. He encouraged me to spend money and invest in myself when I didn't want to, and in retrospect, he was so right and it has been majorly worth it.
As for him, due to his schedule as a medical resident, I have the challenging role of taking care of the kids pretty much all the time. Instead of giving him endless honey do lists and nagging him about taking out the trash when he's home, I've instead tried to take care of as much of the household as possible so he can rest and enjoy his children outside of his 80 hour work week. I'm not perfect, and I get grumpy sometimes about his absence, but I know the more I support him now, the better he will be at his job, which will allow him to really support us a few years from now.
As they say, it's short term pain for long term gain.
Overall…
Overall, our six years of marriage have only made us stronger. Sure we've had arguments and tough points like other couples, but we've grown together and worked together more and more each year. We have really worked hard on strengthening our bond, making difficult decisions together, planning our future together, and regularly discussing what's best for our kids and our finances as we go along this path called life. It's not a perfect marriage, but it's certainly perfect for us. <3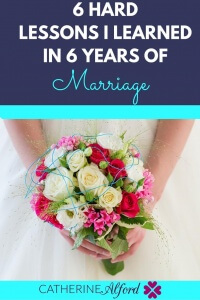 Are you married or in a long term relationship? How many years? What's the biggest lessons you've learned?