Hey guys! It's birthday week over here! Today is my 28th birthday and just a few days ago this blog turned 5 years old!
To celebrate, I'm sharing 5 lessons I've learned in the last five years of blogging today, and I'm also hosting a live Q&A virtual birthday party tonight! Whoop whoop!
Sign up HERE and come and join me for a video chat where you can type in any question you have about blogging, entrepreneurship, writing for others, etc. and I'll answer it – any question is fair game! It's my gift to you. 🙂
Okay now that the PSA is over with, here are the five big lessons I've learned in the last five years since I started a blog:
1. Prepare for the Almighty Glitch
Website problems are a part of blogging. If you had a brick and mortar business and a pipe bursts, you'd have to close the store and lose business for a few days. Online businesses are no different, except the issues that happen are slightly more technical in nature.
In the last five years, I've had my blog completely cyber attacked or click bombed as they called it, I've written 2,000 word posts only for them to totally disappear, and even silly things happen, like how this post went out blank yesterday when it was meant for today. That last one was more of a user error, but it just goes to show that even someone who blogs professionally and has done it for five years still has to deal with little things that don't go the right way.
The best way to remedy this situation is to monitor the back end of your site carefully, have extremely good and complicated user names and passwords, and to hire people who are more knowledgeable than you are to help you fix problems when they arise.
2. Hire the Best Help, Not the Cheapest
I've hired a number of people over the last five years to help me with my various business endeavors, and I can honestly say, the team I have right now are superstars. I'm serious. In my early blogging days, I worked with people who almost lost my entire blog during a server switch, people who said they could design blogs and logos but gave me products that I could have made myself, people who were supposed to help me by lightening the load but weren't fast learners and so were more of a burden than a help.
Now I have weeded through all of that and have finally found four people who help my business grow and hum along. They are:
If you would have told me that my blog, which started out costing me only $10.00 for a domain name on a free blogspot server, would five years later require well over $1,000 in monthly expenses, I don't think I would have believed you. However, I realized about a year ago that by hiring out tasks to others who are experts at what they do, I can focus on what I like to do and leave the rest to them.
3. Do Not Check Your Stats Every Day
If you're a blogger and you go to your analytics account every day, you should definitely stop. It's just going to drive you crazy. I check my stats maybe 3-4 times a month, usually because an advertiser asked for up to date numbers or I want to see how a particular post is doing for affiliate income purposes.
I never get worked up about the numbers or wonder why one day was better than the other. If you're blogging and enjoying it and putting out content and connecting with others, your blog will grow. It's really quite simple. But, beating yourself up about the stats and using them as a metric will only cause frustration, unless it's an awesome day, in which case you should revel in it. 😉
4. Re-Invest and Learn Every Day
If you want your blog to be your business, you have to constantly re-invest and learn everything you can about your craft. I regularly pay for new blogging classes, coaching calls, technical upgrades, etc. Even though I'm a full time blogger and I've had the opportunity to get hired to write for some incredible sites, I still like to read how other freelancers get writing jobs, organize clients, etc. If you reach a point of success and think there's nothing more to learn, then it's definitely your loss. Online businesses change at an extremely rapid place. You have to be constantly on your A game learning about marketing, Google updates, and other changes that could affect your bottom line. Don't get so caught up in your own site that you forget to learn how to improve it.
5. It's Just a Blog
Although this blog means so much to me and is my full time job, at the end of the day, it is just a blog. It is not the most important thing in my life although it is definitely closer to the top of the list. When I get frustrated or fall into the habit of comparing myself to others, I have to remember, it's just a website. If it all went away tomorrow, I would still have my family, my friends, and my happiness. I'm lucky that I started blogging five years ago before blogging was so saturated. It allowed me to get a bit of a leg up and learn by trial and error.
However, I don't know if I'll be blogging at age 60 or doing something completely different. What blogging has shown me is that I am an entrepreneur, something I didn't know I was a few years back. It showed me I can run a business – and a pretty busy one at that. It's taught me a lot about marketing, interacting with the world, and positively influencing those who might need help. I'm so grateful for it. It is just a blog, but it's my blog, and the last 5 years have been an incredible journey.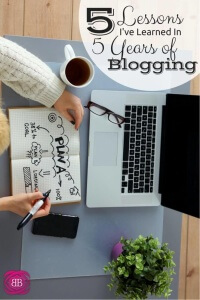 Thank you so much for your support of this blog over the last 5 years. If you want to ask questions about becoming a full time blogger or anything related, remember you can sign up HERE to come to my awesome sauce birthday webinar tonight. Hope to see you there. 🙂