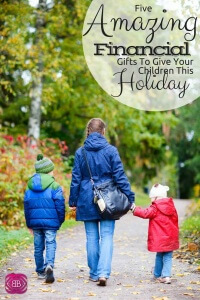 Today's post is by fellow blogger, Latoya. Enjoy!
Have you ever been completely overwhelmed by something because you had so many options to choose from?  You know how you go in your closet on any given morning, look at all of your clothes, and eventually throw your hands up declaring you have nothing to wear?
I'm convinced children suffer from the same decision paralysis after Christmas.  Yes, it's all fun when they see a bunch of gifts under the Christmas tree.  By the end of Christmas day, wrapping paper is all over the floor and toys are all over the house.  Next week your kid comes to you and politely informs you they have nothing to play with (I may or may not be speaking from experience).
So, instead of purchasing a lot of extra toys this season, how about giving your children a gift that will teach them financial responsibility?  A gift that will pay for their education, one that won't be forgotten three days after Christmas?
Today I'm going to share with you 5 financial gifts that may bore your kids to tears this Christmas, but will definitely have them crying tears of joy twenty years from now.
A Math or Money Related Toy
Let's start with the basics.  To expand upon one's financial knowledge, we all need to know how to apply basic principles.  Addition, subtraction, division, and multiplication are all obvious; yet, how many graduates is this country sending out into the world every year that don't even know how to make proper change?  
Ensuring your child knows how to do simple arithmetic and is able to count money is one of the most important things you can do to set them up for financial success.  There are various learning toys suitable for all ages that teach math principles.  A toy cash register could teach the art of purchasing ↼ along with giving and receiving change.
A College 529 or Investment Account
Anyone who carries a substantial amount of student loan debt knows how beneficial it would have been to have a 529 or some other type of investment to help them out with college expenses. Many of our children have plans to obtain a college degree someday and helping to alleviate the burden of rising tuition costs is an incredible Christmas gift.
A 529 account is set up for a specific beneficiary (your child) to put aside money for college related expenses. Even if your child decides not to go to college, the money can be gifted to another family member or can be used for other expenses (with a tax penalty).  With a 529 account the earlier you begin saving, the more advantage you have.  
If you're not sure your kid is going to want to go to school, a UGMA account may be a better gift.  UGMA stands for uniform gifts to minors act.  Even if your child decides not to go to college, your child would still own the assets in the investment account.  Once your child reaches a certain age, the money will be transferred directly to them to use however they would like.
A Savings Bond
Savings bonds are securities issued by the U.S. government.  Although returns aren't as great on a savings bond, this tool would be great to teach children a lesson in patience and interest.  
Suppose your son or daughter would like to purchase a vehicle 20 years from now?  Purchasing an EE Savings Bond may be beneficial because they are guaranteed to double in value from the issue price if you hold on to them for 20 or more years. This could easily provide a down payment for a future car.
Savings bonds can be owned by children and they are now purchased online using a treasury account. The bond is delivered to the minor's linked account and you can print up a gift certificate to give your child. Again, the returns aren't as generous as other financial vehicles, but the lesson that comes with the patience needed to hold on to a bond for 20 or more years is rewarding in itself.
A Beginners Coin Collection
Have you ever received one of those large Coca-Cola coin banks full of change?  I have, and it's very exciting as a kid to have "so much money."  Kids like coins and having a bank full of them makes them feel rich.  My daughter brings her piggy bank to me all the time and tells me how she would like to take her money to the store to buy whatever her heart fancies.
As adults we know that coins are lightweight when compared to dollar bills, but since it's exciting for them, why not gift them a coin collection for Christmas?  For starters, a coin collection can turn into more than just a fascinating hobby, it can be very lucrative.  Coins that have a short circulation life or have minuscule errors can be worth a fortune in the future.
A Wallet Full of Cash and a Money Challenge
This gift would be better suited for pre-teen children or older because with maturity comes greater responsibility.  Many kids are accustomed to receiving a weekly or monthly allowance. Teaching spending, giving, and savings principles using an allowance has its advantages; however, what if you were to take it a step further?
Calculate how much you spend on your child during any given month.  A month's worth of expenses can include many things such as toiletries, lunch money, clothing, field trips, and extracurricular activities. For the sake of time, let's say your monthly expense for your kid is $100 (excluding any allowances you may already give them).
This Christmas, issue them a challenge along with a quarters worth of expenses.  Yes, you read that right, $300!  If they are mature enough to handle such responsibility, the challenge should indicate that the $300 is to be used for their upcoming expenses (such as those listed above) for the next 3 months.  
Set guidelines and help them create a budget that would maximize their ability to save, give, and spend their lump sum of cash accordingly. If the thought of giving this much cash to your youngster frightens you, it shouldn't.  With this challenge comes a mandate that you should make clear: they won't receive any more money until April!
This gift alone is capable of teaching children financial principles that any young one should learn before leaving the nest.  Purchasing toys, teaching basic math principles, and savings are all beneficial; however, none are as beneficial as teaching money management.
Make this Christmas financially rewarding for you and your kids. Regardless the age of your little one, I've presented 5 amazing financial gifts suitable for various ages.  According to a NerdWallet Harris Poll, families with kids planned to spend an average of $578 last year for Christmas.  Just think of the possible earnings $578 could generate in a 529 or UGMA account!  This amount could fund 3 months worth of expenses for a money challenge too.
These types of gifts may not excite your kids as much as a Frozen trinket or an iPad, but one thing is certain: your child will learn life skills that most of their peers will graduate lacking. Instead of making another company richer this Christmas, consider putting your hard earned money to work and investing in your kids' financial literacy.  As I've said before, they'll cry now, but they'll be thankful you did later.
What are you giving your kids for Christmas this year?
Latoya is a freelance writer for hire who loves talking about budgets and money.  Her mission includes paying off $79,000 in student loans and living to tell about it.  She's a full-time, work-at-home mama who shares her journey over at Life and A Budget.  Connect with her on Twitter and Facebook.