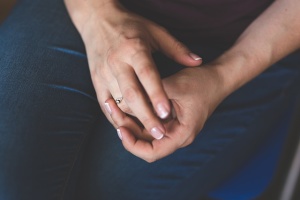 Today's post is by staff writer, Kayla and is brought to you by Diamond Lighthouse. All advice and opinions are her own.
I'm just doing all kinds of opening up these days. A couple of weeks ago I shared some of my biggest financial mistakes with you guys here and one of them was coping with my emotions by shopping, even when I was broke.
The big event in question that threw me into a big financial and emotional mess was a divorce. Divorce is hard. After getting married at the ripe old age of 19 and getting divorced 9 months later was tough. It was hard emotionally and financially.
Luckily there are some things you can do to help you recover financially and recoup some of the costs of divorce. Here are 4 ways to recover financially from a divorce.
Take on Extra Work
One thing I did to help make up for having to pay the rent by myself after the divorce was take on extra hours at my day job and getting a part-time job for the weekends. All of a sudden I was a divorced full-time college student with 18 credit hours/semester and was working nearly 40 hours/week. It was hard, but I knew I needed the extra money to help me pay my bills. [Note from Cat: This is why I love Kayla. She's such a hustler!]
Review Your Budget
If only I had had a budget at that time. If you do, you need to review it thoroughly as a divorce changes many expenses. For example, I went from paying half the rent to paying the whole rent by myself. I also had to change my car insurance, cell phone plan, and more. All of these things had an impact on my budget. Some were good and some were bad.
After you go through a divorce you should look at every line item in your budget to make sure it's still relevant and recorded at the correct amount.
Ask for Help
Another thing I did to help me financially recover from my divorce is ask for help. Asking my family for help was one of the hardest things I've ever had to do. I was embarrassed to ask for help and to this day it still bothers me sometimes that I was forced to do so.
My parents were willing to step in and help me out for a little bit until my lease was up and I could find a new, cheaper, apartment that I could afford on my own.
I know I'm not alone in this because several people I know that have gotten divorced have had to ask their family for help or move back in with mom and dad to help them recover financially.
Sell Your Stuff
Finally, to help recover some of the costs of divorce, you can sell some of your stuff from the marriage. There are lots of places online where you can sell your used wedding dress as long as it's in good condition, and you can also sell your engagement or wedding ring too. Rings are very expensive and even used rings can bring a pretty penny if you sell is someplace like Diamond Lighthouse.
Aside from selling things from your wedding, you might also be able to sell other things you don't need anymore too. I have sold quite a few things each time I've moved or had a major life change in order to recoup some of the costs. I've sold things on Ebay, Amazon, and even on Facebook. [Note from Cat: When I moved to the Caribbean, I sold about $2,000 worth of personal possessions when I moved out of my U.S. apartment. It's amazing how much money we all have just sitting in our house!]
Are you divorced? How did you recover financially?