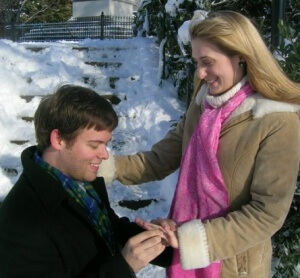 Woo-hoo – Saturday is Valentine's Day! And do you know what that means? It's Julep's birthday! Yep, time to celebrate. For anyone new here, Julep is my dog. 😉
All joking aside, we're not doing anything too fancy on the day which I'm sure comes as a complete shock to everyone. 😉 Actually, we're pretty stoked to be going out to get a cheeseburger on Sunday which is quite the luxury these days ever since we severely cut our grocery budget. It really is the little things!
It's taken hubs and I a long time to develop the way we manage money together. Managing money in a relationship takes time, commitment, and communication. It's not easy, especially when there are two different people who might have different tastes, wants, and needs. Hubs and I are in a really, really hectic season of life right now. We keep wondering when it's going to end and lighten up again but it continues to be pretty tough. As many of you know, he's in medical school and I'm a work from home mom to our twins. Because of all that and the bizarre hours we keep, like me writing this post at 11:30PM, it can be hard to find time to discuss our finances together. The important thing is, though, that we make an effort to communicate about money to keep our relationship strong.
I really believe that just like relationships, finances also take time and attention. Once you're in a relationship, you're not allowed to call all the shots like you did when you were single. Lame, I know, but it's totally worth it to be in a successful partnership.
If you need help in this area of your life, here are the three golden rules of money management in a relationship that we like to live by:
Go On Dates
This may not seem like financial advice, but bear with me. I'm mostly talking about a highly romantic finance date.  You can prepare dinner together and then sit down just the two of you. We always have our financial dates at night to make sure there are no distractions. Otherwise, one of the babies would be crying and we'd be trying to talk over the noise while jiggling said baby on our laps and it just didn't work. I know this may not be the most exciting type of date to go on with your partner, but it's a very important one. Just make sure you two put some money aside in your budget to go on some non-financial dates now and then too.
Give Each Other Some Space
Giving each other some space, financially, is a great way to ensure both parties feel appreciated. Each person in the relationship has things that are important to him or her, and it's important those things are recognized in your family budget and financial goals. I value getting my hair done now and then, while my husband appreciates a new bowtie or watch once in a while. For our relationship to work at its best, we have to recognize and understand that while we are a couple, we are also individuals with our own wants and needs. By setting aside a little money for each of us to use on the things we value, our relationship is so much stronger and neither one of us feels deprived.
Balance Each Other Out
We've all heard that "opposites" attract. and I really believe it's true. There's almost always a spender and a saver in the relationship. Each has their pros and cons and when the spender and saver work as team, amazing things happen. In my relationship, I'm the saver and I'm also the day-to-day money manager. I keep track of the accounts and the budget most of the time. It's not because my husband doesn't care about our finances; it's because that's what works for us. Sometimes I get way too obsessed with saving money, and my husband has to balance me out and tell me that it's okay for us to spend a little money on fun once in a while. Without this balance, I'd burn out or have a really boring life. However, because one of us is a saver and one of us is a spender, together we are able to see both sides of the picture and thus we usually make pretty well-informed financial decisions.
Really, once you're in a serious relationship, managing money becomes a whole different ballgame, and it can be difficult to get things figured out for a while. In the end, you and your partner have to decide together which money rules make sense for you to follow and which ones to throw out the window.
What are your plans for Valentine's Day? Do you go all out or make it a frugal one?