Sometimes I just stumble upon something so unique, I just have to share.
Such is the case with my love of Elizabeth's Etsy store, Elizabeth Lydon Studio. I was just perusing Etsy one day when her jewelry caught my eye. It was so different and unique. I had to send her a message and ask her to tell me a little bit about herself and her work so I could share it with all you lovely blog peeps.

So without further ado, my interview with Elizabeth Lydon:


Hi Elizabeth! Thank you for taking the time to answer some questions for me! I absolutely could not help myself from contacting you once I saw your Etsy store, and I'm honored you'd take the time to join me on my blog!
1. First, this is a blog run by a southern lady so let's get friendly. 🙂 Tell us all a little bit about yourself and your store. When and how did you officially decide to open it?
I have always loved jewelry, and after years of working in fine jewelry, studying gemology, and working in interior design, I came to the realization that creating beauty in jewelry is my true passion and calling. I just love it that I can make a woman feel elegant and stylish when they put on that beautiful unique piece I have created – just for her!
My first trunk show was in 2001. I had no idea what to expect, but 40 people showed up, and made 11 sales. Now, with my Etsy store, we sell to people all over the world!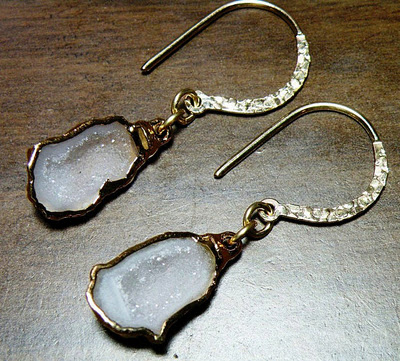 2. When did your love of geology come about? What made you decide to create jewelry with these natural rocks and stones as opposed to other materials?
My passion for gems began in the third grade. Our teacher asked, "Who wants to be in a Rock Group?" and I raised my hand: I wanted to be a rock star. But – surprise! – this was not about Janis Joplin – it was about geology and gemology. We looked at rocks, crystals and fossils, and before my eyes, this whole new gorgeous world opened up before me. It was so cool, and the more I learned, the more I loved it, starting my life-long passion for beautiful, chunky, unusual, and sparkly things that come from the earth.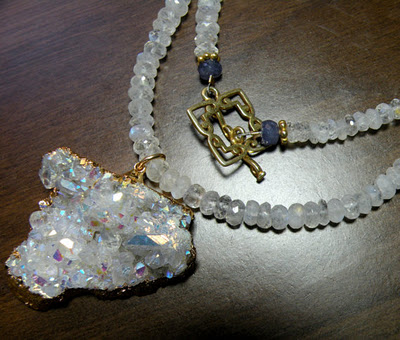 3. I think we all have our favorite rocks. Mine is a diamond of course (as if anyone had any doubts). But this interview is not about me so which is your favorite rock and why?
Tourmaline. It's magical! I can look at these stones, staring at the nuances of depth, hues and shades, all day. It's a sturdy stone. Strong, and beautiful.
5. What can people expect when they buy from you? Why choose your store over countless competitors?
Oh, great question! Every piece can be worn with jeans and a t-shirt or a cocktail dress. (I design jewelry that won't sit in a drawer.)
6. You've had over 700 sales on Etsy alone. What was it like when you made your first sale? Exhilarating? Nerve-wracking? Terrifying?
I was ecstatic that a virtual stranger wanted to wear my creation. It meant the world to me!
7. Take us through a typical day in the life of Elizabeth. Seriously, we're super nosey (or at least I am).
When I get up (over coffee), I try to capture ideas that came to me at night, with notes, or a sketch. Then, I answer emails, or return phone calls, and finish up designs I was working on the day before. I like to photograph them while they're still "fresh," using daylight, which shows them off the best. I love preparing items for shipping, because of the feeling of connection with my customers. My day is really spent designing, creating, and, in-between, talking with, or writing to, customers and suppliers. I'll take a break for dinner, and generally get back to work, continuing until about midnight.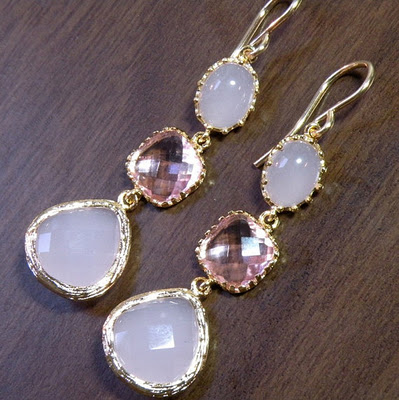 8. What advice would you give for those who are interested in starting a business, but don't know where to begin?
Only start a business if you are totally and completely passionate about what you are doing. You will eat, sleep, live, and breathe your business 24 hours a day, 7 days a week, and you need that passion to keep you going through all the tasks and all the long hours.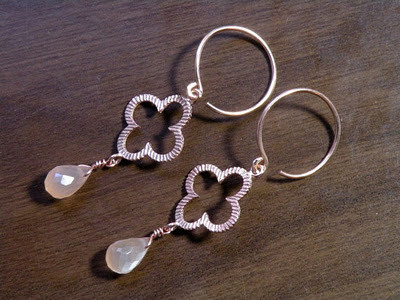 9. What's been the best way that you've found to promote yourself and your business?
Customers tell their friends and family about us, and that is just so gratifying. And, I love what I do, so talking with people wherever I go is part of the picture. With Etsy, listing new items gets a lot of exposure, and Etsy does a great job of promoting its new members. Also, I have found that working with blogs related to design and fashion has been very rewarding. We have been so busy keeping up with sales, we are just beginning to promote ourselves.
10. Lastly, what can fans of your jewelry expect in the future?
Expect more unique, one-of-a-kind stones and jewelry. We are looking to expand into bridal, a very inspiring area, and, before too long, into new and unique metalwork. Watch our site!
Thank you so much again Elizabeth for taking the time to answer my questions! I so appreciate it!
And blog friends, she has many stunning pieces under $50 if you are still searching for a unique, one of a kind Christmas gift. Check out her shop for more amazing designs. Or, find her on twitter and facebook.
Have a great day everyone!
{All opinions in this interview are 100% mine. No payment or perks were issued! Just sharing the eye candy!}