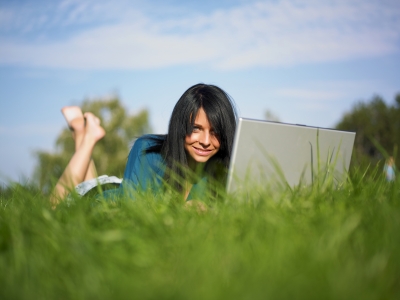 Blogging and having your own successful website are great ways to make some extra money or start a whole new business. It's also a great hobby if you are looking to showcase some of your knowledge and interact with a great group of people who are interested in the same things you are.
Owning your own website definitely takes some time and energy, but it's so worth it when you receive your very first comment or sale.
There are so many things I've learned about blogging in the past three years, things I always tell others whenever they start a website. First of all, blogging doesn't have to be expensive at all (you can actually get a free or very cheap website to being with.) Also, it just takes a few simple steps to really make it successful. Check them out below.
1. Determine why you are blogging.
This is a big step for when you create a website. Are you blogging to tell your family and friends about your life? Do you want to share your financial knowledge and add your name to the awesome community of personal finance bloggers? Or, do you want to start a lifestyle blog and keep it as a sort of journal? Regardless of your reason, it's good to know why you are doing it so you can remind yourself when you hit a rough patch or find it hard to get motivated.
2. Determine your niche.
You don't need to stay within one topic forever, but in order to be relevant and not confuse readers, picking a general niche is a good idea. I actually bounced back and forth between personal finance and DIY design during my first two years of blogging, and now that I'm solidly in the PF space, my website is much stronger.
3. Write high-quality posts.
There's no question that content is king. Your posts on your site are what will engage your readers, and this will help bring your readers back. Try to make them over 500 words with great advice that will help others.
4. Network within your niche community.
It's hard for a blogger to get anywhere without networking within the online community. Other bloggers can help  get your articles out there to possible future readers, and they can help you improve your website as well. Networking is also important because you can make new contacts, expand, and have others recommend your services.
5. Interact with readers.
Readers are a big part of whether or not your website will be successful. They are also the best part! Engaging with readers can be fun and also lead to new ideas for future articles. And you never know, you might even make a friend! As a website owner, there are many things that you can do to interact further with readers. You can allow them to email you with questions. You can also enable commenting and reply back to the comments that they leave on your website. Hearing from my readers absolutely makes my day, and once your website grows, I promise you that you'll love hearing from yours too!
6. Promote via social media.
I personally love social media. Facebook, Twitter, Instagram, Pinterest, Google + – I've got it all. It's a great way to interact with your readers and promote your business. It's also a lot of fun!
So, there you go: 6 tips to start a website! Go ahead – what are you waiting for? 🙂
Photo Credit: FreeDitigalPhotos.net