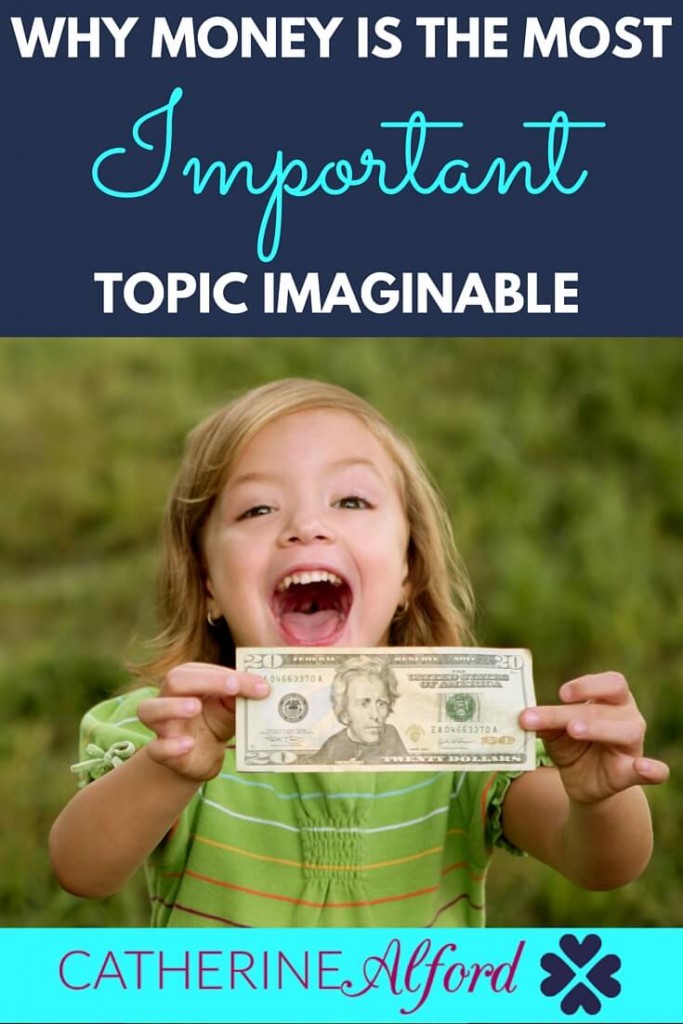 I'm sure I'll get some backlash from this post, from my declaration that money is the most important topic imaginable. So, let me just go ahead and shock you even further by saying I actually believe money is the most important topic in the world. 
Hear me out.
It's important you know that I'm not advocating for money worship or advocating that you spend your entire life in pursuit of tons of it.
I'm saying that understanding money, knowing how it works, know how to make it, knowing how to spend it, etc. etc. etc. is so crucial and important to living a happy life.
It's so important, in fact, that if you don't teach your kids about money or learn about it yourself, you are without a doubt in for a very hard, arduous existence.
Isn't Family More Important?
But Cat, you might be thinking, what about your kids? What about their health? What about life and kindness and being good to people? Aren't those things more important?
Well, of course, my kids and my family are important to me, but what kind of life would I have if I couldn't put a roof over their heads, food on the table, and clothes on their bodies?
How could I focus on parenting, keeping them safe, warm, and fed, without money? If I was broke or homeless, I would be unbelievably stressed. If I had $20,000 of credit card debt, I would worry about my payments. If I couldn't feed my kids, I would be at risk of losing my children.  If I couldn't provide a safe place for them to live in a safe neighborhood, their childhoods would look very different.
Plus, if they learned about how to manage money and build wealth, couldn't they be especially giving as adults? By learning how to make money grow and how compound interest works, couldn't I ensure that my kids grow into two people who can change lives, make large donations, etc.?
Yes, I know that money is not exactly required to teach them about being charitable. After all, I can show them how to volunteer and how to be giving of their time. However, large, scalable impacts on the world happen because of a combination of a giving nature and money. 
Kids don't just become giving on their own. They have to be taught the benefits of giving. Kids also don't learn about money on their own. It's a teachable lesson
. The combination of being raised with these two qualities is much more powerful and can leave a bigger impression on the world at large than simply  knowing how to volunteer.
Money is the most important topic imaginable. 
What if I've Never Been Good With Money?
You might be reading this thinking well my parents never taught me about money or understanding money and investing is only for the privileged or  I've always been bad with money. If so, I have some great news for you: money management is not reserved for people who are geniuses!
Everyone, anyone, your mom, your sister, your friend, your cousin, and you can learn about money.
It's kind of like driving a car. You weren't born knowing how to operate a heavy metal vehicle that can go 80 mph. You took a driving class. You practiced. You were taught.
Similarly, it's up to you to teach yourself and then your kids how to handle money. I know it's possible because I've done it myself. Not too long ago, I was standing in the Walmart checkout line with a ton of groceries, 5 people behind me, and credit card after credit card that got declined. About four years later, after learning about money and learning how to manage it, I'm better off than I could have ever dreamed of.
Struggling Sucks
Can't we all just agree that it sucks to struggle? It's miserable to live paycheck to paycheck (I know because I've been there.) Isn't it hard to be in a marriage where you can't agree on how to handle money? Isn't is sad when you have to tell your kids no, that you can't buy them blueberries because you can't afford it? Don't you wish you could get a break and hire a babysitter every now and then so you can just think, in silence? These are reasons I started freelancing, and why I encourage people to make more money and learn how to manage it.
Money is the most important topic imaginable.
Money is the answer to all of these problems.
Knowing where your money is going will help you to budget and allocate a certain amount of money to groceries. Marriage counseling won't fix the arguing with your spouse about money, but sitting down once a week, setting financial goals, and making a budget together will. You could plan everything out via paper
or even online if that is what you prefer. Plus, showing your kids what hard work really means and explaining that you have to work in order to get paid will set them up for a lifetime of good work ethic. It feels so great to even have a $1,000 savings fund for emergencies; the anxiety just melts away.
Take Charge
Take charge today. Be the one that changes the future for your family. Read about personal finance. Learn about it. Get inspired. Kick some ass. This is not hard to do, and I believe anyone can get comfortable and successful with money – yes even you!
If you want to get started today, I recommend tracking your spending for about a month first. I (and many others) recommend Personal Capital for this. It's totally free; you just go here and link your accounts and cards to it and then you can see what you spend, how much money you make, how much you have invested, and how much you have in debt. Once you get that clear picture and know your net worth you can really get an idea of how to move forward and improve. Knowledge is power, so go get you some!