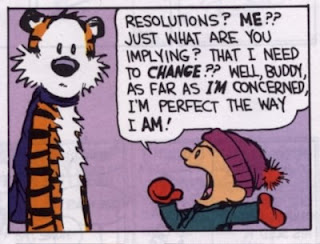 Unlike Calvin up there, I have many goals and resolutions for this year!! They all revolve around improving my daily life. I did a lot of growing up last year from holding down my first full time job to managing all of my bills to learning how to live with the hubs in the same house. But, as with life, there is still much more to learn and many more feats to accomplish.
My resolutions really fall under one huge category: Organize My Life. When I get more organized with how I spend my money, I can save more. When I organize my grocery lists and plan meals, I give myself more time to do the things I enjoy. When I plan what I'll buy at the store rather than throw things in the basket, I come home with a healthier batch of food. When I organize my schedule, I take better care of myself, my dog, my blog, and my school work.
Unfortunately, organizing doesn't really come naturally for me. It takes constant vigilance and good habits. I already donated three huge boxes of clothes to Goodwill at the end of last year but there is more to go! In fact, let me just go ahead and declare that my goal for 2011…
….is to get rid of 2,011 things!
This might seem like a shocking number… but ladies and gentlemen, there is an entire room of junk and several closets that you have yet to see….
Are you up for the challenge?